News
Published on July 30th, 2009 | by Chris
0
Formstack and FreshBooks
FreshBooks is one of the most popular and easiest, online invoicing tools on the web, so we are very excited to announce that Formstack now integrates with FreshBooks!
FreshBooks is all about delivering  fast and simple invoicing and time tracking services that help you manage your business, as we can attest to, since we have been FreshBooks users for a long time. That is in one part why we created the integration, we knew  how valuable having a the ability to have customers fill out a Formstack form and have it automatically create a client in FreshBooks would be.
Integration Features:
With the Formstack Integration for FreshBooks you can now automatically create a client whenever someone fills out one of your Formstack web forms. Also, when a  form is submitted it will look in the database and if a client exists with that email address it will automatically update that client record based on the new information submitted. You can also, if set up, create an invoice and or an estimate with any form submission.  You can also automatically add items to invoices and estimates based on your existing choices.
Watch our quick introduction video to learn more: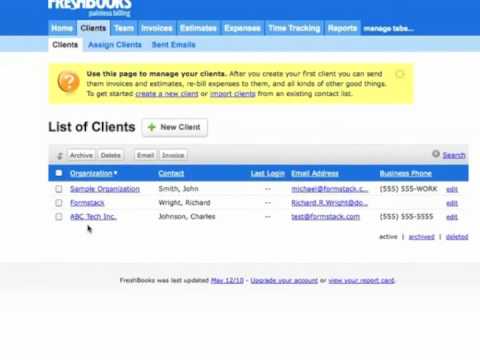 What It Means for Me:
The Formstack Integration for FreshBooks allows organizations who are manually adding clients to their FreshBooks accounts an easy way to streamline the process. We use FreshBooks for our annual billing option and before we designed this integration we would have to manually take the notification email we received from the form and copy and paste the information back into FreshBooks to create an invoice for that client. Now we can simply integrate our billing  form, automatically generate an invoice as soon as the customer hits submit, review it and send it out! This saves us obvious time, but also saves us from accidentally duplicating an invoice for a client or incorrectly entering information, making this a great way to automate a process we do everyday.
How Do I Get Started?
Visit our FreshBooks Integration page to learn more.  If you are new to Formstack learn more about us by visiting our How it Works page or sign up for an account today and see how easy it is to integrate your online invoicing with Formstack web forms!